Coming Soon
About Us
The Entertainer was founded in 1981 by husband and wife team, Gary and Catherine Grant. It has over 140 stores in the UK and 6 international stores.
The Entertainer stocks thousands of products online at TheToyShop.com, offering a 30 minute click and collect service.
Our Mission
Our Mission is to be the best-loved toyshop – one child, one community at a time.
The Entertainer is also recognised for its charitable giving. Each year it tithes 10% of its net annual profit to charity, in addition employees are encouraged to donate directly through Payroll giving.
Our History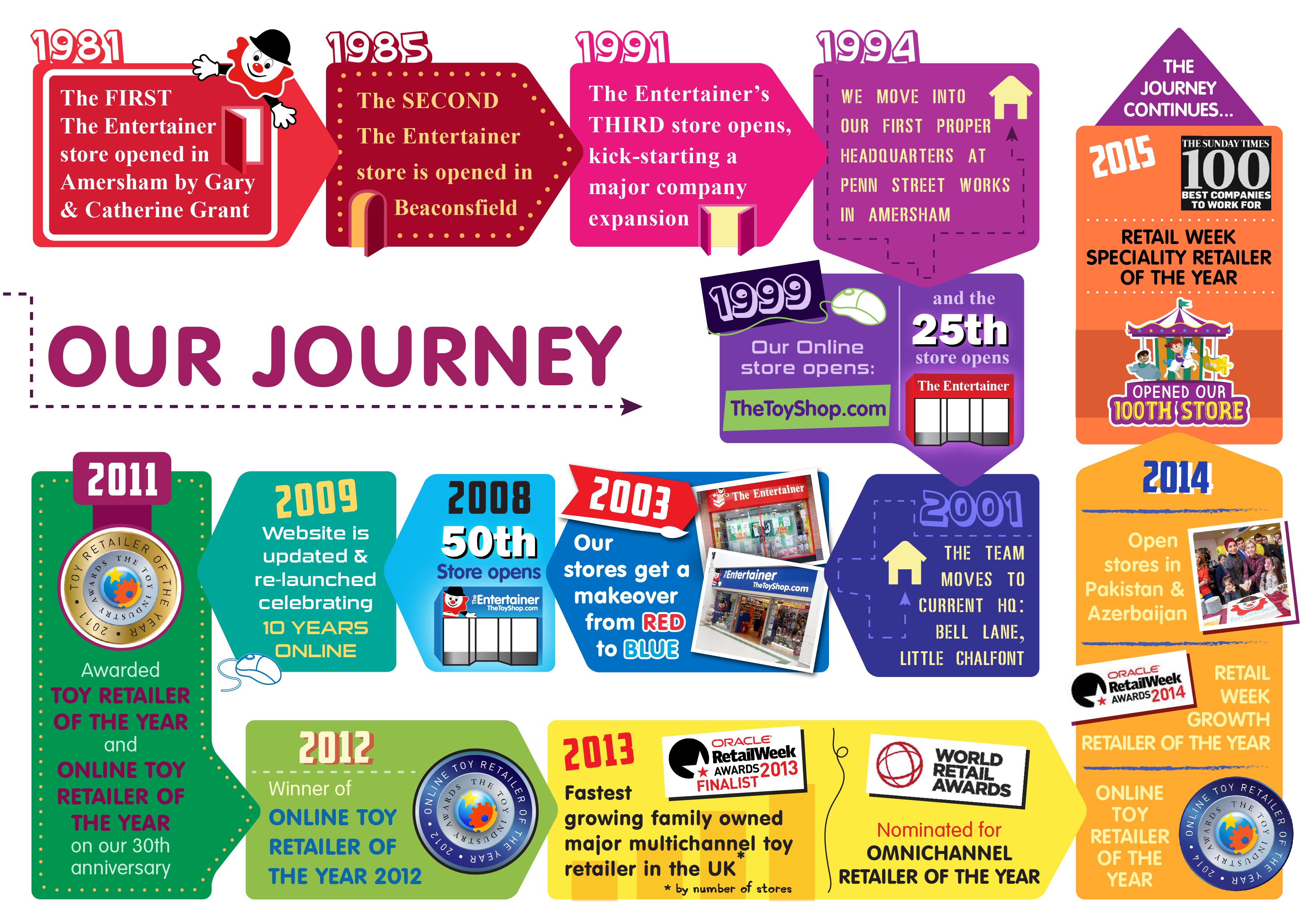 The Entertainer currently employs over 1400 staff across the stores and a further 160 in the Head Office in Amersham, Buckinghamshire.
Our Values
So what does it mean to work for The Entertainer? We think we are a bit different. We are a values driven, family business with amazing people working in our teams. We sell fun products but we work hard. So how do we describe all of this? Well we think our vision, mission, values and playground rules will help you understand more about us and our culture.
Charity
Charitable giving is a core part of The Entertainer, click here to see how we give back.
Vision
Our vision is every childhood filled with wonder.
Children are at the heart of what we do. This is our driving belief and what we all strive to achieve.
Mission
Our mission is to be the best loved toyshop – one child, one community at a time.
What a great challenge! This is the driving force behind everything we do in our stores and in our support teams.
Values
Our values reflect our behaviours, the things that shape how we work with each other. They are at the core of who we are and what we do. They complement each other and it is important that we carry them through to our working day. The values are a team, just like us, they work best when they work together.
The Playground
The Playground is who we are. It's more than a physical presence - it's the atmosphere we create. It is the umbrella value that brings everything together, it's our secret ingredient... It is the sum total of the rules and the values and helps us remember we are serious about what we do but we always find time to have fun along the way. We are the Playground, it's in our DNA.
The Playground Rules
Here at The Entertainer our values have helped shape ten rules that we believe build on our heritage, reflect our current business and will help guide us and shape our future. These rules are at the heart of everything we do. Click the banner below to learn more.
Map View